Good News from Bob and Gracie Ekblad
December 9, 2019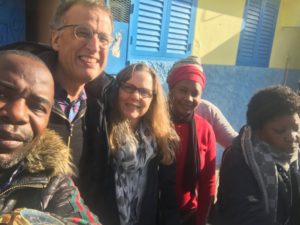 Gracie and I are deeply thankful to God for another fine year of challenging but abundant life and fruitful ministry.
Last week I met with my oncologist for a visit after PET and CT scans. He told me that the tumor in my abdomen has shrunk by 80%, there's no sign of cancer and that I'm now in "complete remission" from follicular lymphoma— without having to undergo chemotherapy!. See this recent
article
about me in the American Society of Hematology.
Gracie and I continue to feel lead to spend 2/3 of our time here in Skagit County. Here we pastor our TN church community, teach, lead Bible studies in the jail and nearby prison, and work on writing projects– such as the four volume series Guerrilla Bible Studies.
This year we are focussing special attention on training up a group of eights new leaders, each of whom have come into our ministry from the streets and jail. We leave December 10 for a week in Honduras, where we will visit our Tierra Nueva leadership there.
We continue to feel a strong call to spend 1/3 of our time equipping leaders to reach underserved communities around the world– from Siberia to Rabat, Morocco to Wellington, New Zealand. We are encouraged by the growing commitments to ministry to under-served communities everywhere we go.
This Fall we've started a new Certificate in Transformational Ministry at the Margins in Stockholm, Sweden, followed by teaching and speaking engagements in Belfast and Philadelphia. In the first four months of 2020 we will be offering trainings in Geneva, Lausanne, Basel, Stockholm, Cape Town and Zambia.
When I asked God in prayer last week "how far and wide do you want the CTMM training to go?" I feel I heard an immediate response: "To the ends of the earth," echoing Jesus' words to his disciples in Acts 1:8: "you will receive power when the Holy Spirit has come upon you; and you shall be my witnesses both in Jerusalem, and in all Judea and Samaria, and even to the remotest part of the earth."
The Scripture from Isaiah 40:4, "the coastlands will wait for his (the Servant's) teaching" also came immediately to mind. Gracie and I resonate with these Scriptures and want to dedicate the rest of our lives to equipping the body of Christ through training trainers and grass-roots leaders.
Please prayerfully consider helping us accomplish this mission. We are in need of more financial partners for our personal support, which is underfunded by approximately $3,000 a month– and for special projects such as translating manuals and books into Spanish, and travel expenses for trainings in the global South.
We continue to need financial partners who feel called to support us in our mission. This month we are receiving 60% of our paycheck due to inadequate funds. You can give to Tierra Nueva electronically through https://secure.egsnetwork.com/donate/5C7582D0-5705-4EF9-ABB5-F1DB00D9447B, or send a check made out to Tierra Nueva earmarked "Ekblad Support" to Tierra Nueva, P.O. Box 410, Burlington, WA 98233.
May God richly bless you! May the Holy Spirit guide you, bringing to remembrance the teachings of Jesus– who is with us always.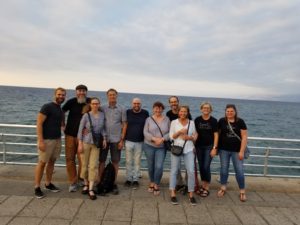 Beirut, Lebanon, October 2019
Bob and Gracie Ekblad News Update
As Gracie and I begin a new Fall season we are taking stock of the past few years– which have felt like a bit of a whirlwind and a series of rich banquets at the same time. We are deeply grateful for your partnership, which is bearing fruit in many places.
This past month we celebrated 25 years of ministry here in the Skagit Valley. Our Tierra Nueva faith community is growing. Last month we baptized six people in the Skagit River, and last Sunday two more people entered the cooling waters. Every week people show up who look like they've never set foot in a church. Our dream of Tierra Nueva being a circle of friends and neighbors who rejoice when recently found "sheep" are brought back is becoming a reality.
Through The People's Seminary we have now completed 14 Certificates in Transformational Ministry at the Margins (still a mouthful) in 9 countries (USA, S. Korea, UK, Canada, New Zealand, France, Morocco, Zimbabwe, Kenya).
There are currently CTMMs in process in Kenya (2), Tanzania, Stockholm, with new ones starting in Lausanne, Cape Town, and plans for startups in Krasnoyarsk (Siberia), Uganda and possibly San Francisco and Hamilton, Ontario. Some or all of the CTMM's three manuals are now translated into French, Swahili, Oromo, Amharic, Swedish, and Russian.
My brother Andy Ekblad is working with our African partners James and Helen Onchangu, Nicholas Onyango and pastor Pius, and Zimbabwean leader Richard Malitino to complete trainings in two communities in Kenya this October and November.
We just competed module one in Stockholm with 20 participants. We were hosted by Kara Church, a downtown Stockholm Lutheran Church that has one of Sweden's largest outreaches to the homeless and refugee communities. 10-15 participants from Kara Church's missions school (most of whom are immigrants or refugees) joined us for the afternoons (see photo below).
I am excited to announce that Guerrilla Bible Studies, Volume 1, Surprising Encounters with God is now available in paperback on Amazon. This book is a sequel to Guerrilla Gospel— the first volume (of four) that includes 13 tried-and-tested Bible studies for people who have little to no exposure to Christian faith.
The CTMM is now available as an online course, with videos of most of the teaching and distance learning talks, compete with downloadable manuals. If you know of people interested please encourage them to consider taking the course through The People's Seminary website.
Gracie and head to Beirut October 8-15 to participate in a training even for a Syrian Pentecostal church. Please keep us in your prayers. October 22-27 I will be participating in the annual international meeting of 24/7 Prayer in Belfast.
My clinical trial treatment for follicular lymphoma has continued to be successful. I'm in partial remission. I have felt almost no side affects from the treatment, which consists of a single pill taken once a week. CT and PET scans November 20 will determine whether I'm in full remission. In any case I will have to continue the treatment. I really appreciate your prayers.
Gracie and I are full-time senior leaders of Tierra Nueva. 2/3 of our time in spent here in the Skagit Valley. Our role descriptions include our teaching through The People's Seminary, and part-time teaching roles with The Seatte School and Westminster Theological Centre (UK). We limit time spent outside the region to no more than 1/3 time.
We appreciate your prayers for us for healing, strength, inspiration, protection as we travel, and clear discernment.
We continue to need financial partners who feel called to support us in our mission. This month we are receiving 60% of our paycheck due to inadequate funds. You can give to Tierra Nueva electronically through https://secure.egsnetwork.com/donate/5C7582D0-5705-4EF9-ABB5-F1DB00D9447B, or send a check made out to Tierra Nueva earmarked "Ekblad Support" to Tierra Nueva, P.O. Box 410, Burlington, WA 98233.
May God richly bless you! May the Holy Spirit guide you, bringing to remembrance the teachings of Jesus– who is with us always.
Bob and Gracie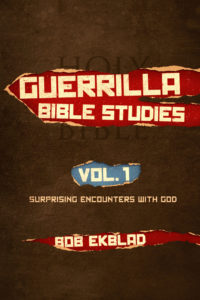 These first three months of 2015 have turned out to be a fruitful season for Gracie and I.  We are seeing our years of ministry with Tierra Nueva leveraged more than we could have ever imagined.
We have just returned home from three weeks in Bangkok, Siberia and Seoul. In Bangkok we spent two days visiting our friends Iven and Kashmira and their four young children, who live in a very poor neighborhood known for prostitution and homelessness.
We talked through some of their ministry challenges, prayed together and walked the streets with them on one of their outreach nights to young men working as prostitutes. Encouraging front-line missionaries, pastors and ministry workers is something we deeply enjoy and value.
Our next assignment took us on a seven-hour flight north over China and Mongolia to Krysnoyarsk, Russia— in the heart of Siberia. Andrey, a Russian man in his late twenties who I first met in a Bible study in Skagit County Jail some seven years ago had invited us. Andrey had come to faith and become a strong Christian during his year in jail and subsequent year in immigration detention. In spite of my best efforts to advocate for him in immigration court, Andrey was deported, and eventually ended up involved in ministry and writing me to come and teach in Siberia.
Gracie and I arrived without fully knowing what we were getting into. We ended up with a fully-packed schedule, driving around Siberia speaking in seven of the thirty-five churches in his network (most of which have recovery houses) and teaching at conferences and a Bible school for fifty men and women in recovery. We saw the Holy Spirit move powerfully in service after service, and in many individual prayer appointments witnessing physical and emotional healing and spiritual renewal everywhere we went.
From there we flew to eastern Russia and down to Seoul, where we taught the first six-day course (out of three) of our Certificate in Transformational Ministry at the Margins to people committed to serving the poor. We also met with individuals for inner healing appointments throughout the week, witnessing the Spirit move powerfully in people's lives.
We are excited to see that our goal of multiplying ministry workers equipped to reach under-reached and unreached people is well underway. Currently we have 85 students between our three Certificate in Transformational Ministry at the Margins (CTMM) cohorts in Burlington, London and Seoul. In April we teach module two in Burlington and then in London.
Plans are underway to start cohorts in the north of England (Sept 2015) and in Wellington, New Zealand (January 2016). Our focus in this next season is to consolidate our training program and recruit some teachers from our current students. Our goal is to have a team of trainers who can help teach the CTMM courses so we can run new cohorts without teaching them all ourselves.
We will be spending most of May-August on the home front, taking care of Tierra Nueva, as our Executive Director Mike Neelley will be on a four-month sabbatical. We will be focussing on further equipping our staff and a growing number of ministry workers from the margins to meet our growing mission to support ex-offenders coming out of jail and prison and grow our worshipping community.
One of our biggest current challenges is funding. We are consistently several thousand dollars short on our monthly support. Since our ministry in Washington is primarily to inmates, people in recovery, our staff, our congregation made up of people on the margins, our CTMM students and my Seattle School students, it is difficult to find regional supporters. Our travel around the world puts us in contact with many people, but since we are focused on ministry at the margins we rarely find people able to support us. We are grateful for our many supporters who stand with is in different ways. Please prayerfully consider whether and how God might be calling you to partner with us in our ministry through Tierra Nueva.
If you feel led to give here are three options:
1)   Online E-giving through: https://www.egsnetwork.com/gift/gift.php?giftid=5C7582D0-5705-4EF9-ABB5-F1DB00D9447B
2)   Donating via PayPal through:  http://give.fivetwo.org/give.tierra-nueva.org/
3)   Sending checks earmarked "Ekblad Support" to Tierra Nueva, PO Box 410, Burlington, WA 98233
Yours in Christ,
Bob and Gracie Ekblad
General Directors
****
Gracie and I are at an exciting crossroads in our 30 years of marriage and ministry.   After years of direct engagement with the poor both here and in Honduras, now it seems right to leverage what we've learned to multiply leaders both here and abroad.  My experience yesterday with ministry colleague Zack Joy at Mars Hill Graduate School in Seattle illustrates what we long to see more of.
I met Zack 7 years ago during a Bible study in Skagit County Jail.  Zack is a big white guy with a long criminal history and 17 years of intravenous heroin use, a veteran meth cook and experienced street fighter.  At 6'7" with shaved head, heavily tattooed arms and neck and strong voice he can be intimidating—and his already big hands swollen from liver disease made him look even scarier.  That day at the end of a study on Luke 15 he unexpectedly insisted I pray for healing of a Chicano gang member Fabiano's liver—a new activity for me & the launch of a new stage in our lives.  I prayed for both men and a week later I heard the amazing news that they both experienced healing.   From that point on healing prayer became and important dimension of our ministry.
There in the jail Zack got set on fire for Jesus, and called from the streets after his release, desperate for more prayer and advice about how to reach out to his drug dealing and using friends.  I visited him in motels and meth houses, and saw God's love and power win people over.   Others from Tierra Nueva began accompanying him pastorally, walking with him through a methadone program, court appearances and dealing with his many fines and other struggles.  A few years later I baptized him in the Skagit River and then performed his and Katie's wedding.
He now has been clean off heroine 6 years.  He now serves as head roaster for Tierra Nueva's Underground Coffee Project, is launching a faith community in Bellingham with TN pastor Mike, and works with fellow ex-offender Will with support from Chris to expand coffee sales through speaking in area churches.  Yesterday he told his story after I taught on Genesis 1:1-3 in my OT course at Mars Hill.  Sixty graduate students in counseling psychology and theology listened attentively to his story of how the Spirit hovered and God spoke light into the darkness and chaos of his life.  Students were deeply moved, and asked him to forgive them for their attitudes of superiority and indifference and to pray for the Holy Spirit's empowerment.  I witnessed a huge divide bridged between the margins and mainstream—and saw my students inspired to move with greater sensitivity and passion towards people like Zack.
Gracie and I continue to feel called to bring good news of God's love and liberation in Jesus to the poor and outcasts through recruiting and equipping leaders from the margins and the mainstream for holistic missional engagement.  We feel God leading us to do this through Tierra Nueva in four primary roles:
1).  As  founders and directors of Tierra Nueva, we direct and supervise our staff who lead English and Spanish faith communities, jail and gang ministries, a family support center, CSA farm, coffee project, recovery house and integral development and house church movement among the rural poor in Honduras.
2)  As pastors & ministry practitioners, we lead Bible studies and pray for peoples' healing, deliverance and empowerment by the Holy Spirit in jails, at Tierra Nueva here and in Honduras, at our home-based retreat center New Earth Refuge and at large in churches or wherever we are invited: Canada, UK, France, Mozambique, South Africa, Sweden, Iceland, Latvia, Philippines, Cambodia, Guatemala…
3) As a writer, theologian and professor Bob writes books, articles and updates on how to read the Bible and minister to people on the margins, prepares training materials for prison ministries and other outreaches that can be translated into many languages and teaches on the Bible and missions at the People's Seminary in Burlington, in graduate schools in Seattle and the UK, and in churches and schools of ministry around the world.
For the past 17 years, Gracie and I raised support to fund the entire TN budget, a task which became unsustainable as many new workers were drawn to our ministry.  We have now shifted our fundraising approach.  Currently all staff must raise their own support.  This includes us!
We are confident that since God has called us to this ministry he is also providing individuals from the US and other countries to partner with us.  If you would be open to us contacting you directly to talk about how God might be calling you to become a financial partner with us, simply email and say "I am interested in hearing more."