As part of New Earth Refuge's mission we host friends and family in our guesthouse beside our home, located on 35-acres of forest, pasture and wetlands bordering the Skagit River near La Conner, Washington.   In 2004 Bob and Gracie Ekblad, co-directors and pastors of Tierra Nueva, an organization that serves people on the margins of society, established the New Earth Refuge with the following mission:
Offer teaching and prayer, especially for those who are already involved in ministry to the poor and broken and for those in the process of discerning God's call to serve the least.
Minister to people called to exercise their gifts in mainstream contexts.
Offer pastoral care and prayer for inner and physical healing, discernment and empowerment.
Lead people in personal, guided (or unguided) spiritual retreats.
Offer regular events for the discernment and release of spiritual gifts and empowerment through the ministry of the Holy Spirit.
Host visitors, youth groups and The People's Seminary course participants who come to participate in the work of Tierra Nueva.
New Earth Refuge offers the following accommodation:
A guesthouse with two dormitories, each with a bathroom/ shower and sleeps 9 people (8 bunk beds and a mini loft).
A small meeting room heated with a wood burning stove and equipped with a small kitchen that can seat 20 or so people.
Our prayer ministry team includes Gracie Ekblad, Bob Ekblad and other Tierra Nueva staff, board members and volunteers. If you desire prayer or would like to book a retreat, please contact Gracie at .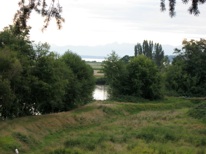 See more detail about the accommodation here.