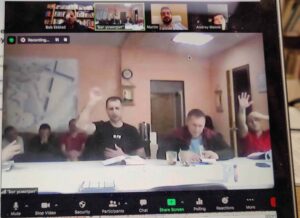 This last week I came to understand one of Jesus' teachings in a new and challenging way. This first happened when leading my weekly Zoom Bible study with a group of 25 or so Russian men in a recovery house in Krasnodar. More insights came as I read and discussed the same Biblical texts with inmates in our local jail over the phone in the lawyer's booth.
One of the Russian recovery guys volunteers to read Jesus' parable in Luke 6:39 after I read it in English:
"A blind person cannot guide a blind person, can he? Will they not both fall into a pit?"
I search for a current example, asking the men if any of them had done something they later regretted.
"Have you or anyone you know been convinced by someone to engage in a robbery, believing that you'd get away with it, only to be caught and suffer the consequences?"
I see seven or eight hands go up almost immediately.  "Da, da" ("yes, yes"), I hear through my computer speaker.
"Maybe some of you had come up with a plan to commit a crime, convincing someone to join you—and it didn't go well," I suggest.
I can see the men looking sideways at each other, smiling and nodding agreement. Prisoners in our local jail easily recognize themselves in this parable. Repeat offenders readily acknowledge having blindly led others into disasters or themselves followed the blind into all kinds of troubles. They've all fallen into pits too many times. That's why they finally become desperate enough to humbly read the Bible in hopes of learning something that might help them change, or enter into a recovery house.
We then read the next verse together, and I can see how brilliantly Jesus invites those who've fallen into pits into a new life.
"A disciple is not above his teacher, but everyone when he is fully trained will be like his teacher" (Luke 6:40).
Here Jesus doesn't directly state that he's their teacher, but instead describes the disciple-teacher relationship available for those wanting instruction. He offers to teach them and us, as an alternative to being led by someone who is blind. Jesus doesn't state that he is superior, but humbly presents his vision as an inclusive promise: Everyone, when they are fully trained will be like their teacher. Wow, what an offer!
The only requirement is a willingness to enter into a disciple-teacher relationship, until the process of being fully trained is complete.
Jesus' way of leading is so different than street, prison, business, or political leadership models, which often involve control, manipulation, and even threats of sanctions, violence and eventual domination. The outcome of following and learning from Jesus is to become like him, not under his control.
Jesus was addressing "a large crowd of his disciples" (Luke 6:17). Which ones will finally come under his teaching and become fully trained? The invitation is still on the table, to you and me.
Jesus' next asks his students a challenging question based on what he must have been observing. We read Luke 6:41 in English and Russian.
"Why do you look at the speck that is in your brother's eye, but do not notice the log that is in your own eye?"
"Do we in fact notice flaws in others and not notice what is blocking our vision?  If so, why?" I ask.
I know from experience that the men in the recovery house, and people I visit in our local jail, like anyone who has suffered or lived long enough, are veterans of being judged and themselves judging.
In response to Jesus' question as to why we notice specks in other's eyes while not noticing logs in our own eye, people come up with the following answers:
We can't bear the blame so we turn it on others. We judge others to keep above them, hiding behind superiority to protect ourselves from shame or the rejection we assume is coming. Judging others can deflect judgment coming our way, making us feel better.
I can see my own tendency to preemptively judge to protect myself from judgments coming towards me.
Finally we don't notice our own log because we are blind to it.
I place my rectangular glasses case across my eyes, pretending it's a log. I ask those watching me over the Zoom call whether they'd trust a doctor with blinders to operate on them, or a guide with their eyesight blocked like mine to lead them. Jesus' example shows how obviously blind anyone would be with a log blocking their vision. We read Jesus' second question in Luke 6:42:
"Or how can you say to your brother, 'Brother, let me take out the speck that is in your eye,' when you yourself do not see the log that is in your own eye?"
Jesus' questions and examples give keys to understanding how we become blind unawares, and blindly lead or are blindly led.
We read Luke 6:43 to see Jesus' cure for this kind of blindness:
"You hypocrite, first take the log out of your own eye, and then you will see clearly to take out the speck that is in your brother's eye."
I explain that Jesus' command to first take the log out of own eye is even stronger in the original Greek. Take out means "cast out" (ekballo). Seeing clearly is only possible after we cast out the log from our own eyes first. This requires honesty and humility– even first accepting Jesus naming our hypocrisy.  n order to see clearly to help our brother or sister remove the obstacles to their vision, we must face, confess and deal with our own issues first.
In today's climate of rampant judgment, division, slander and even open hostility, when we find ourselves judging or having to deal with others' judgments, I'm feeling inspired to join my Russian and inmates brothers to focus on becoming more like my teacher Jesus, putting into practice his instruction to cast out my own logs, so I can hopefully see more clearly and avoid falling into pits.