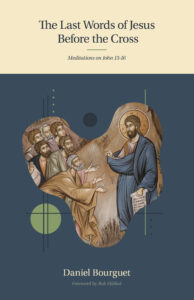 Daily as I keep informed about national and world events I have felt called to also read and re-read Jesus' teachings. I notice that I can get agitated and reactive to news, and the very words of national leaders– which can leave me feeling angry, frustrated and empty.
In contrast, Jesus' words are refreshing and life-giving, offering me wide-angle perspective, strategic wisdom and precise direction– both directly through the Spirit's guidance and through the teaching of Scripture.
Jesus' last words to his disciples before his crucifixion are recorded in John 13-16. These words invite relationship and inspire hope. Check this out:
"If you abide in me, and my words abide in you, ask whatever you wish, and it will be done for you."
I most certainly need help and clear direction on many fronts– and answers to my many prayers. So Jesus' offer here is something that interests me. How do I abide in him and welcome his words to abide in me?
"Abide" (from the Greek meno) means 'to continue, to remain in, to keep on.' This most certainly requires deliberate effort, including prayer, and reading, studying and meditating on Jesus' words.
I think of Psalm 1's description of the person who meditates on God's teaching day and night– resulting in being "like a tree planted by streams of water, yielding fruit in its season– whose leaf does not wither; and in whatever he/she does, she/he prospers."
"My Father is glorified by this," continues Jesus, "that you bear much fruit, and so prove to be my disciples."
Being a disciple of Jesus involves being guided by his daily directions and staying rooted in his larger teachings. The word translated "commandments," (entole), includes both precise directives and written teaching contained in Scripture (see Gen 26:5; Exod 15:26; Deut 13:18; 15:5).
"If you keep my commandments, you will abide in my love," continues Jesus. "Just as I have kept my Father's commandments and abide in his love." Living according to God's instructions leads to fullness of joy.
"These things I have spoken to you so that my joy may be in you, and that your joy may be made full" (John 15:11).
I most certainly want and need to experience this joy. Jesus' most relevant command in these days of partisan division and racial tensions comes in John 15:12:
"This is my commandment, that you love one another, just as I have loved you."
This has motivated me of late to proactively pursue relationship with people I disagree with, including listening to their perspectives, but also challenging them in love.
We have just published through The People's Seminary Press the first English translation of our French mentor and friend Daniel Bourguet's book The Last Words of Jesus Before the Cross: Meditations on John 13-16, which I highly recommend in my endorsement.
"Daniel Bourguet models attentive, respectful, listening to Jesus' final words to his disciples, making them come alive as highly relevant to anyone immersed in the trenches of life and ministry. This book is a treasure chest full of wonder-inspiring revelation drawn from the detail of John's crafted Gospel, compelling me to a deeper reading of the Bible, with the Holy Spirit as guide. This is a must-read for people desiring fresh nourishment to sustain us for a life-long journey of engaged faith."
This book is hot off the press and can be ordered on Amazon here.