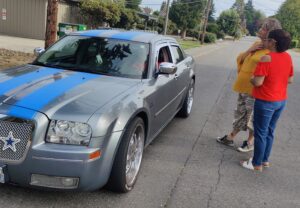 At Tierra Nueva over the past three weeks, 10-12 of us have been meeting on Wednesday afternoons to first learn from the Gospels what it looks like to follow Jesus in mission. We then pray together, divide up into groups of 2-3 and head out onto the streets, where we offer to pray for peace or for the needs of individuals we meet. After 45-60 minutes we come back together to debrief. Everyone returns with stories of positive encounters.
During a recent Bible study we see how Jesus shows that his role as prophet, or spokesperson for God, was not welcomed among his own (Mk 6). He himself could only lay his hands on a few sick people. So, he takes off for the surrounding villages, and then calls and sends the twelve disciples out in pairs to other places.
As the disciples go out with Jesus-given authority and in extreme vulnerability they witness repentance, and lots of freedom from evil spirits and healing (Mk 6:13). How could this story help us experience something similar now?
Looking more closely at Mark 6:7-13 we notice how after calling them to himself and beginning to send them out in pairs, Jesus "was giving them authority over the unclean spirits." We note that Jesus' first miracle was to cast out an unclean spirit from someone in the synagogue (Mk 1:23-25).
Unclean spirits are powers that afflict people who are meant to be fully filled by the Holy Spirit. These spirits are associated with undue loyalty, submission, oppression by or outright idolatry to organizations (synagogues, temple, religions), regions (Gerasene), violence (Mk 5:2), legions of the Roman Empire (Mk 5:9), etc. In the gospels they are associated with sickness, psychological torment and even permanent conditions like deafness and muteness (Mk 9:25). Unclean spirits include "religious" or nationalist spirits, as they cause people to fall down, and show their allegiance (Mk 3:11).
They are invisible powers at work everywhere in our culture and larger world, associated directly with "rulers, authorities, powers and world forces of wickedness in the heavenly places" that Paul says we struggle against— and not against "flesh and blood" (Eph 6:12).
Jesus had authority over these spirits and gives this to his disciples- you and me included. But what's amazing is that Jesus combines this authority with the uncommon partners of extreme humility and vulnerability.
Jesus sends out his disciples without money, or extra clothes—a huge contrast to the church's normal tendency to serve as host rather than guest. Disciples are only to carry a staff, (which is the same word in Greek as scepter). King Jesus deputizes his disciples and sends them and us outside our comfort zones as dependent guests (not conquering invaders)– to advance the Kingdom of God.
In Mark 6:7-13 we notice that there's no more mention of the disciples exercising authority over unclean spirits. Rather they act more broadly and freely, preaching repentance, casting out demons and anointing the sick with oil and healing them. Receiving authority over unclean spirts from Jesus opens the way for the Kingdom of God to come close.
There in the Tierra Nueva garden our people were excited about the prospect of this kind of mission. Most of them had experienced hardships like homelessness, addiction, and incarceration. Some had also been on the receiving end of overly zealous Christian mission efforts. Yet they see the need for a scepter, and they like adventure.
My group consisted of Robin and her sister, who came that day for the first time. We started right off praying for one of the women new to Tierra Nueva. She drinks in the prayer and care like a thirsty plant.
We head down the road, noticing a hopped-up car parked by the park where we used to meet for Sunday worship. A big star on the hood catches our attention. A woman sat in the driver's seek, window rolled down, talking away on her cell phone.
"Let's pray she gets off the phone quick or we won't be able to pray for her," I propose. We pray and she almost immediately ends her call. We approach her and describe our mission, offering to pray.
"Yes, I'd like prayer," she says. "I want protection from Covid."
We gathered around her window and each of us pray. We share how we noticed the star, and tell her we believe God sees her as a precious person, a shining star like the one on the grill of her car.
Tears begin to fall, and her eye lashes start to come unglued. She didn't seem to notice as she soaks up our words and prayers.
We leave her and meet a young man with pierced nose and lips, and a skateboard, who's waiting for a bus. He, too, gladly receives prayer for his wife and new baby daughter, born two days before.
We return to the garden and hear reports from the three other teams, who had each prayed for 4-6 people.
The following week we head out together again, crossing the street as a group before going our separate ways as small teams.
Together we run straight into a young man we knew from past interactions. He was pushing a shopping cart along with a blanket and other basic necessities he'd acquired. We ask how he's doing and if he needs prayer. One of our people knew he had just lost his stepmother to a Fentanyl overdose. He is deeply touched as we gather around him and pray. Gracie and Jessica accompany him back to our Tierra Nueva garden, where he waits until we return, to get a ride to the place he's staying in Sedro Woolley.
Roger, one of our team members, had received an image of someone wearing red while praying two days before. I tell him I have a strong sense we need to head to a particular corner near the police station. Off we go, walking several blocks. We decide to stop by a local clean and sober house, and pray for two men out front, one of whom we knew from the jail. We turn the corner, and pass a Mexican woman and her son working in the yard. She is eager to receive prayer, especially for one of her older sons, who suffers from diabetes. We pray for his healing, and invite her to join us in our prayer walk the following week.
Suddenly Roger nudges me. "Bob, we've got to cross the street!" He points to a man with a dark beard fixing his bicycle on the corner—the very corner I had envisioned. Roger notices his red shorts, fitting the description of the guys in his vision.
We cross the street and approach him, and Roger humbly shares how we are out blessing the community, walking the streets and offering to pray for people. "Can we pray for you for anything?" he asks.
The man looks at us in shock. For the longest time he is unable to speak- his lips quivering and face contorting. He asks us to pray for his five-year-old daughter, from whom he was legally separated for some reason unknown to us. This separation is crushing him. Her name is tattooed on his forearm. He cries as we pray, and then shares how he works at a motel, and everyone he knows is struggling with Meth. He asks us to pray for his friends. When he learns I'm a pastor, he gives me a big hug. He knew about Tierra Nueva and says he needs a family, a faith community. He gives us his number and takes ours.
We return to the group in the garden, where everyone shares their stories. Julio, Lucrecia and Chucky had prayed for a woman with Cancer. Jessica and Gracie and stopped by someone from Jessica's work and prayed for her.
Like Jesus' disciples who talk with people, cast out demons and pray for healing after Jesus gave them authority over unclean spirits—it seems we are stepping into a version of this ministry. We can see that our simple stopping, conversing with and praying for people affected by Covid, Cancer, Fentanyl, the court system makes a difference for them– without needing money or anything material to give. I'm excited to go out again. May the Spirit fill and empower you to step into Jesus' ministry too.
Consider joining us our new Certificate in Transformational Ministry at the Margins cohort, designed for those already serving (or feeling called to serve) amongst poor or marginalized communities. This 12-week
CTMM 2021 Module 1 
training begins 
Sept 28
,
 

Tuesdays 12:00-1:30pm 
(PDT).