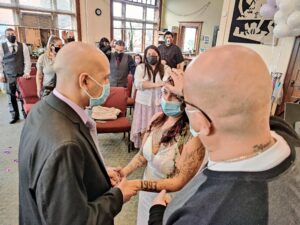 So far 2021 has been marked by loss, grief and transition, together with some constants and newness that have kept us too busy to write.
On the family front there's been lots of upheaval. On April 12 my 91-year-old mother left us after months of suffering due to frequent hospitalizations, increasing blindness and hearing loss, and two weeks in hospice at a nearby nursing home. I was the only designated visitor under the latest Covid protocols during her hospitalizations, keeping me busy and giving me a special opportunity to draw closer to my beloved mom. For months our home was abuzz with out-of-town guests, including my parents 19 grandkids, many of their spouses and my siblings.
Two weeks after my mom died my 93-year-old father suffered a stroke and was airlifted to Seattle, where he was hospitalized for a week before being transferred to a rehab facility here in the Skagit Valley where he's been receiving physical therapy. We are currently determining where he can live now that he's wheelchair bound and needs daily assistance.
Gracie's 87-year-old mother has been suffering from worsening dementia from the last few years, and is now needing constant care. For months Gracie researched and then located an assisted living facility in our community, moving her mom out of her home of 60+ years on May 10. This has been a massive adjustment that continues.
In the midst of all this our colleague of 13 years and Tierra Nueva's Executive Director Mike Neelley, notified us that he's feeling called in a new direction and will be leaving at the end of August. Our youngest staff member who serves as pastoral advocate Andrew Lewis has also given his notice that he's moving to Guatemala to pursue a persistent call to disciple young people.
Since March of 2020 we've been unable to lead Bible studies in Skagit County Jail and Washington State Reformatory, or travel internationally. As we've shifted to offering an array of online trainings, visiting inmates on-on-one in the lawyers' rooms, and pastoring our people by phone, through car windows and now in-person we've felt something new arising.
In the midst of exhaustion, grief and bewilderment we are experiencing God's faithfulness, expressed in Isaiah 43:1-3.
"Do not fear, for I have redeemed you; I have called you by name; you are mine! When you pass through the waters, I will be with you; and through the rivers, they will not overflow you. When you walk through the fire, you will not be scorched, nor will the flame burn you. "For I am the Lord your God, The Holy One of Israel, your Savior."
We are now looking at a seriously pruned Tierra Nueva, downsized to four staff, in addition to our Honduran pastor David Calix and our affiliate team in Seattle, Ernesto and Lee Aragon. For years our vision has been for Tierra Nueva's faith community to be increasingly stewarded by the people we've served- those affected by immigration, incarceration and addiction. Now this is imminent.
In October we began meeting for Sunday worship in a park, and we are now meeting with a consistent group of 25 in the garden and parking behind Tierra Nueva, with increasing involvement from participants.
Last month I had a vivid dream that I came into our local jail and found it gutted and empty. I went around to the back to find a massive field of freshly tilled soil, with rows and rows of small plants springing up out of the ground. Yesterday Julio had a vision of us baptizing lots of people down at the Skagit River. I have been moved repeatedly these days by Isaiah 43:18.
"Do not call to mind the former things, or ponder things of the past (something that's hard not to do). "Behold, I will do something new, now it will spring forth; will you not be aware of it?…"The beasts of the field will glorify me, The jackals and the ostriches, because I have given waters in the wilderness  and rivers in the desert, to give drink to my chosen people."
We are seeing this Scripture as having special relevance for us now, and are looking for the new things, and noticing signs of God's work of "making a path in the wilderness, rivers in the desert," (43:19) bringing living waters to the human equivalents of wild beasts, jackals and ostriches– God's chosen ones.
Lately we've been preparing people for baptism, praying for people with chronic illnesses, marrying couples who've spent their lives outside of any kind of Christian community (see photos). People we've met from the distant past have been contacting us for pastoral support. And our faith community members are often right there to help.
In addition, people from all over the world as well as from our own faith community have been participating in our weekly People's Seminary trainings. We are also leading a weekly Russian Bible study and recording teachings translated into Arabic. Some of our trainings which were postponed due to Covid are now back on our calendar in places like Lausanne, Budapest, Stockholm, Cape Town, Zambia, Auckland, and Casa Blanca.
Our highest priority for these coming months is to nurture and organize our community of Jesus followers so they themselves can carry forward the Jesus movement in our region, bringing life-giving waters into the wastelands. We are planning our travel carefully to ensure that we're as present as we need to be to shepherd our ministry into this new season.
We value your ongoing support, which is vital for us to continue our ministry. Please consider helping us financially. If you are interested in monthly or a one-time donation, you can give online here or send a check directly to Tierra Nueva ("Ekblad Support"), P.O. Box 410, Burlington, WA 98233. We highly value your prayers.
May the Holy Spirit fill, refresh and guide you this Pentecost season!
Bob and Gracie Ekblad