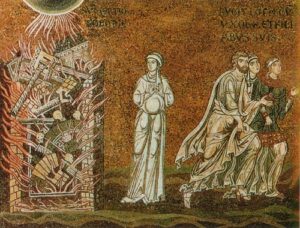 I recently revisited a notorious trauma text—the destruction of Sodom and Gomorrah according to Genesis 19. I was in search of good news in a dark and difficult Scripture, hoping it would help me find some good news here and now, in our dark USA.
For years I've led people in comparisons between Abraham and Sarah's warm hospitality of strangers (who turn out to be YHWH and two angels), in contrast to the men of Sodom's attempt to violently abuse the sojourners, and Lot's abhorrent attempt to protect his visitors at his daughters' expense.
On this visit to Sodom I notice for the first time comparisons between the two angel guests' visit to Lot, and Jesus' sending of missionary disciples in pairs to receive hospitality, heal the sick and announce the nearness of the kingdom of God (Lk 10:9).
These two messengers are sent because God says to Abraham: "The outcry of Sodom and Gomorrah is indeed great, and their sin is exceedingly grave, "I will go down now, and see if they have done entirely according to its outcry, which has come to me; and if not, I will know" (Gn 18:20-21).
The two men head down on a fact-finding mission, while Abraham stays back with God, interceding for anyone who might be counted as righteous below. The messengers experience the oppression firsthand, and their visit turns into a rescue mission for undeserving and reluctant members of the family of God.
Abraham's intercession bears fruit, and the messenger men offer spiritually-empowered protection against predators before rushing Lot, his wife and daughters out of town before it's destroyed. Their intervention shakes a family co-opted by an evil culture out of their spiritual stupor. They, like many in our society today, seem to have fallen prey to spiritual blindness and near paralysis.
A mob surrounds Lot's house, calling for him to turn over his visitors so they can violate them. Lot tries in vain to reason with them, calling them "my brothers." He offers them his virgin daughters in the place of his angel guests. The men of Sodom then turn on Lot, prompting the men (angels) to reach out their hands and bring into the house, shutting the door. They then strike the predators with blindness (19:10-11).   
The men urge Lot to bring his family out the place and Lots tries to comply. He urges his family to flee the city before it's destroyed, but his sons-in-law think he's just joking.
When morning dawns the angels urge Lot to get out of town. "But he hesitates. So the men seize his hand and the hand of his wife and the hands of his two daughters, for the compassion of the Lord was upon him; and they bring him out, and put him outside the city" (19:16).
Today in the America where I live the story strikes me as highly relevant. So many seem entrapped by predatory powers, pulling them (and me) away from the narrow path that leads to life. God's compassion is at work, and like Jesus who sent out the seventy, the Spirit recruits and sends out people on fact-finding and rescue missions now.
Over the past months I was prompted to go looking for a young man I knew from the jail, who I'd heard was caught up in a meth addiction and suffering from diabetes. He was living in a notorious place with other addicts and people hiding from the police. While I prayed for him, I put off looking for him, and then heard the tragic news a few weeks ago that he'd died of Covid.
I also felt compelled more recently to look for another man, and I delayed again. When I heard he'd been hit in the head with a baseball bat and was back in jail facing charges that could give him a third strike according to Washington State law, leading to a life sentence, I decided to pay him a visit in the jail. This visit went beautifully, and my friend urged me to visit that notorious place, telling me to tell the people that he'd sent me.
I have since visited the place and been well received, meeting people who are facing imminent eviction and homelessness. The story is still unfolding, so let's return now to the outskirts of Sodom to see what happens there.
When the angels bring Lot, his wife and daughters outside one says: "Escape for your life! Do not look behind you, and do not stay anywhere in the valley; escape to the mountains, or you will be swept away" (19:17).
Lot lamely negotiates for an easier solution, but then complies. He, his wife and two daughters flee and are spared. In contrast Lot's wife "from behind him, looked back, and she became a pillar of salt" (19:26).
The fate of Lot's wife is brutal in its finality. There's no turning back from becoming a pillar of salt. She looks back and it's too late. And yet we see the urgency to flee and the finality of death far too often here in our streets and in our country today!
A woman who used to attend our services comes out of a drug and alcohol treatment program earlier this year, immediately relapses on heroine laced with fentanyl, and dies of an overdose. Someone with active warrants for minor offenses, on the run from law-enforcement, sells drugs to make some quick money to hold their family over and to post bail. They're busted for drug dealing and now face years in prison.  A Christian leader I'd written several times, attempting to challenge his overtly nationalist and anti-vaccine blog posts dies of Covid. Not escaping for your life and looking back can have fatal consequences, as Philoxenos of Mabbug, a 4th Century Christian mystic comments.
"So then, if you are following Jesus, walk behind him and do not turn back behind you. Remember the wife of Lot: because the love of her people and the sound of the howls of her friends had forced her to turn around and look behind her and she became a pillar of salt, as it was written concerning her. Because her soul did not become salty by fear of the Most High, she became a pillar of corruptible salt. Remember then this woman who was divided in her mind and perished, so do not become divided like her and do not turn around behind you lest you remain on your spot. It will be this way for you, if not in your body, at least in your soul. Whoever turns around and looks behind himself after he has departed on the journey of this road, his soul will become an unfeeling pillar. Just as the wife of Lot had ceased bodily sensation and so became a pillar of salt, so also here the thought that always looks back at corruptible things will cease and be numb to the sensation of spiritual things, because the memory of the world acquires for us the dullness of the heart and soils the clarity and purity of the soul, and this physical worry will obscure and darken the pure gaze that renders the min capable of constant vision towards God…
Therefore, depart from the world, O disciple, by that example in which the apostles had departed, in deed and not just in name, by one's own thought and not by pretense; by will and not by outer appearance; by desire and not by chance; by discernment and not by tradition; by freedom and not by law. Daily make the desire of this spiritual way of life new in yourself. Taste life while making everything moral die from you."
I'm trying to pay closer attention for myself, my family and for others the Holy Spirit puts on my radar. The compassion of the Lord is still at work, compelling us to seize people by the hand at times, and urging them to flee temptations and dangers.
Jesus himself was moved with compassion when he saw the crowds "distressed and dispirited like sheep without a shepherd. Then he said to His disciples, "The harvest is plentiful, but the workers are few. "Therefore beseech the Lord of the harvest to send out workers into his harvest" (Mt 9:36-38). May we not delay in our response to his recruiting and sending, and join him in his rescue missions.
Check out my Sermon last Sunday at City on a Hill Church in Surrey, British Columbia below.