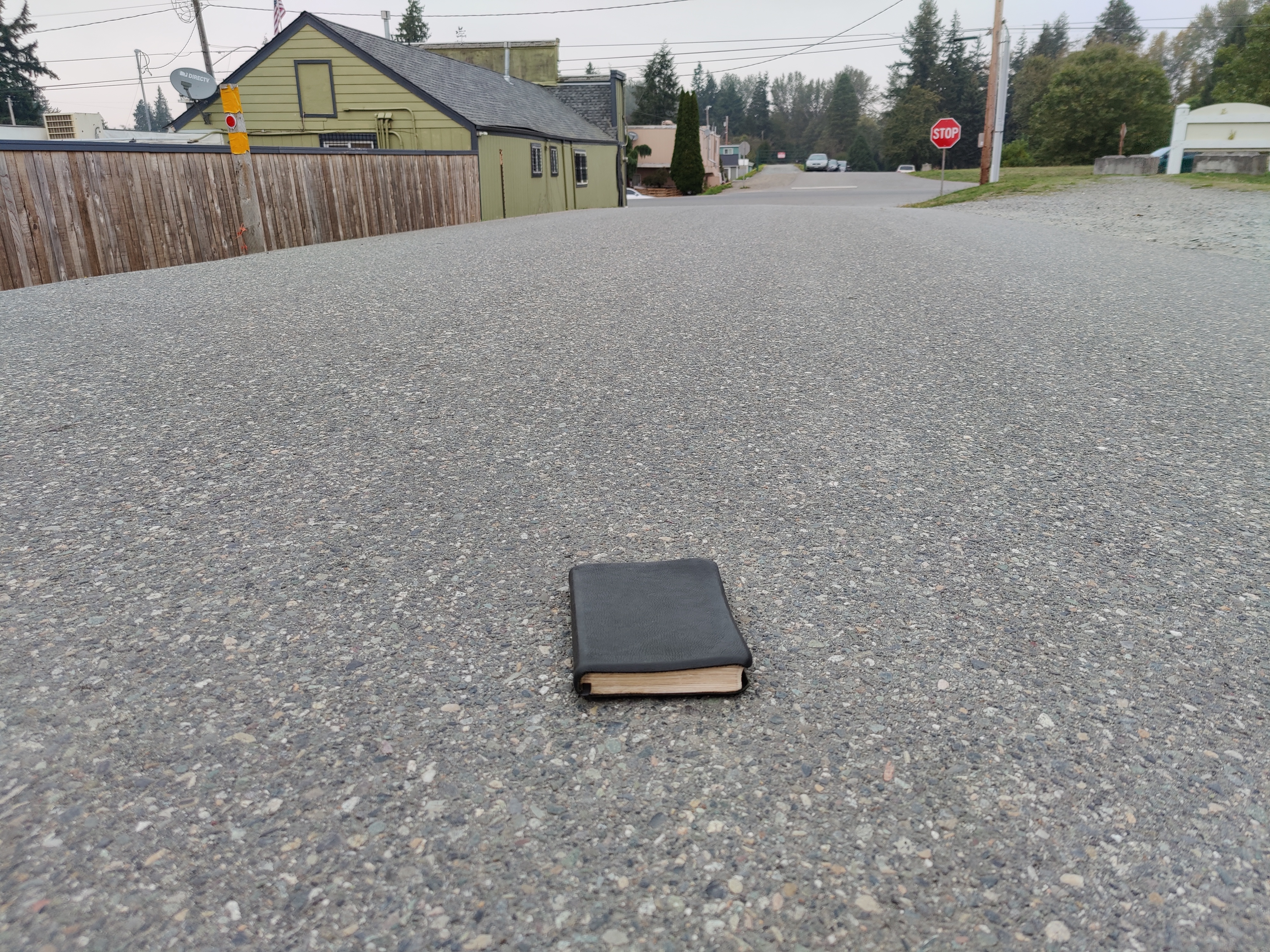 Most of the people we relate with at Tierra Nueva do not have a long history with the Bible. They encounter Scripture for the first time through our faith community, personal visits or jail Bible studies. They expect messages from the Bible to be positive, as they have little to no negative baggage to overcome. So they are open and hungry for Bible study, but have not yet incorporated regular reading into their lifestyles… but that is changing.
Friday I met with Jessica and Jason at a park beside the Skagit River in West Mount Vernon. We've met there three or four times on Friday afternoons for short Bible studies, done as we lean against the hoods of our cars—which are parked far enough apart to assure appropriate physical distancing.
After collecting a bag full of chestnuts together from under a tree by the side of the road, I open my Bible and we read Matthew 20:17-28.
Scripture comes alive as we reflect on how the mother of the sons of Zebedee, two of Jesus' disciples, approach Jesus, bowing down and asking him to command that her beloved sons sit at his right and left in his Kingdom. We notice how she and they seem oblivious to Jesus' clear statement about his immediate destiny and way into the Kingdom— betrayal, condemnation, mockery, torture and crucifixion.
"Behold, we are going up to Jerusalem; and the Son of Man will be delivered to the chief priests and scribes, and they will condemn him to death, and will hand him over to the Gentiles to mock and scourge and crucify him, and on the third day he will be raised up" (Matthew 20:18-20).
This mom and her disciple-sons, like many of us today, have their minds set on earthly power—ascending and governing (like the Seven Mountains philosophy fashionable in some Christian circles– see critique here).
Jesus responds to her prayer with realism and a question: "You don't know what you are asking. Are you able to drink the cup that I am about to drink?" After all, two thieves were destined to hang at his right and left as he was crowned with thorns as he entered his Kingdom as Israel's Messiah and the world's Savior.
We read on how on "hearing this, the ten became angry with the two brothers."
Jessica calls out the jealousy and resentment expressed by the other disciples.
We notice that Jesus doesn't shame or shun the ambitious mother and her sons, or the other ten. Rather he calls them all to himself, naming what he assumes they already can recognize about how the world operates.
"You know that the rulers of the Gentiles lord it over them, and their great men exercise authority over them" I read, asking them if they see this attitude today.
Jason and Jessica are quick to identify this as the way the street, politics and the workplace operate. We are now ready to hear Jesus' heart and alternate way.
"It is not this way among you," continues Jesus. "But whoever wishes to become great among you shall be your servant, and whoever wishes to be first among you shall be your slave; just as the Son of Man did not come to be served, but to serve, and to give his life a ransom for many." (Mat 20:26-28).
Jesus doesn't condemn his disciples, but states that the Kingdom of God reality is already operational among them: "It is not this way among you." He doesn't put them on blast for wanting to be great or first, but offers a new way, serving one another—even to the extreme of being a slave as the way to greatness.
Jesus clearly states his own commitment to this upside-down-way, saying he didn't come to be served but to serve—and to give his life as a ransom—the payment to assure the liberation of many.
Jesus speaks prophetically to the universal church- hoping all future disciples would fully internalize and live out what he himself embodies. The radical truth of Jesus' words hit us like a refreshing breeze on a hot day—submerged as we are in power-grabbing, contentious politics of our time. We look at each other and I can see there's agreement that we love Jesus and his message– which inspires us as we ponder it there in the park.
Just then a car rolls slowly up and stops in the street beside us, and a heavily tatted-up man leans out his window to greet us. "Hey, what's up?" he states. I hadn't seen E for over two years- since he was last in jail before heading to prison. Jason and Jessica know him since they were all teenagers running the streets together.
E leaves his car running, gets out and comes over to greet me. I place my Bible on the hood of my car and we catch up. He tells me he's been out of prison for a little over two months. He tells me tomorrow's his birthday—"I'll be 38," he says.
"What can I give you," I say, surprising myself.
"How about a prayer," he says.
"Yeah for sure," I say. "For something in particular?"
He brings his right hand up and taps the left side of his chest and tears up, saying: "for my heart!"
Quickly he returns to his car and opens the passenger door, leaning in to talk with a young woman, who returns with him.
"Can you pray for both of us?" he asks.
"Of course," I say, and they hold each other and bow their heads shyly.
Words come that surprise me as I pray for the healing of their hearts, for understanding, love and more. They're moved by the prayer and thank me, and then return to their car– where Jessica is conversing with another passenger in the back seat.
They drive off, and Jessica and Jason have to go too. I drive to a nearby store, where I suddenly realize my Bible is missing. Had I driven off with it on the hood of the car?!
I turn around and head back to the park, searching the area where we'd parked– my heart is still warm from the sacred encounters. My Bible is nowhere to be found, so I drive back, scanning the side of the road, lamenting the loss of my beloved leather Bible—a gift from Gracie. I console myself that maybe someone has found it who needs it, and pray they will discover a life-giving message.
After dinner I head to the jail for a one-on-one with a man who the jail staff are finally letting me see after two weeks of refusing me entry. We read and discuss the same text from Matthew 20. Around 10pm I head back to the park to search for my Bible again–  walking the street leading out of the park, searching along the sides of the road. I pray that it'd somehow turn up—or bless someone, or both. The next morning I get an email that warms my heart:
"Mr. Ekblad, found precious item that belongs to you. I'm Jose and would like to return to you. Email me or call me. Not to worry, it's safe! Jose."
He includes his number and I call him. He welcomes me to his house twenty minutes north of us.
We meet on his doorstep. He recounts how he saw my Bible in the middle of the road as he was driving out the park at 5:30pm the night before— shortly after I'd left for the store.
We converse about his faith, past vocations and other things. I offer him a copy of my book Guerrilla Gospel: Reading the Bible for Liberation in the Power of the Spirit, which he warmly receives. He welcomes me to come back anytime to talk some more. I leave amazed that my Bible has brought me from Jason, Jessica and E to Jose, and now it has come back to me– like a divine connector there to serve Jesus' liberation movement.
I'm ready for the next opportunity to sow this sacred Word, and wonder what sort of fruit it will produce. Isaiah 55:10-11 to mind:
"For as the rain and the snow come down from heaven, and do not return there without watering the earth and making it bear and sprout, and furnishing seed to the sower and bread to the eater; So will My word be which goes forth from my mouth; It will not return to me empty, without accomplishing what I desire, and without succeeding in the matter for which I sent it. (Isaiah 55:10-11).