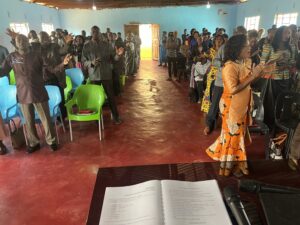 While in Honduras in the 1980s Gracie and I learned to engage illiterate and minimally-educated people in Bible study through spontaneous dramatic re-enactments of Bible stories.
This month during our Certificates in Transformational Ministry at the Margins in Ndola, Zambia and Manenberg, South Africa, I found myself searching for ways to act out Bible stories
During these mostly spontaneous "bibliodramas" the Scriptures came alive afresh in surprising ways, creating bridges that made the ancient text suddenly obviously relevant.
In our CTMM module 2 on "Healing and Holistic Liberation" we treat sensitive topics like father and mother wounds, rejection, abandonment, and trauma, as well as spiritual warfare, healing and spiritual liberation.
When talking about spiritual warfare we use the story of Jesus taking his disciples to the "other side" of the Sea of Galilee, away from his prior ministry among his own people.
I spot a large table that I envision working as a make-shift boat, and ask for help to lay it on the floor. I invite twelve volunteers to serve as Jesus' 12 disciples, and have them stand on the table like they've gotten in a boat. I find someone willing to be Jesus, who joins the disciples in the boat. I invite others to grab jackets or whatever they can wave around the "boat" to demonstrate wind and waves.
I invite someone to read Mark 4:35-37, which describes a fierce gale of wind, waves breaking over and filling the boat. The people with the coats wave them over the the twelve playing the disciples, who pretend to be full of fear. The man playing Jesus is laying down pretending to be asleep.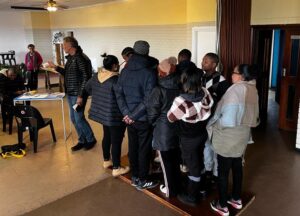 I invite people to consider whether they've ran into obstacles when they've moved away from their comfort zones to minister in unknown or especially challenging places. People identify easily with this, and give examples from their lives.
We read the next verse about Jesus being asleep, the disciples waking him and saying: "Don't you care that we are perishing?!"
We talk about the feeling of being out there all alone when things get rough. The text gives people permission to identify their feelings of abandonment, their sense that Jesus is doing nothing to help. The disciples model a prayer of complaint that frees us to be real.
As we read what happens next the man playing Jesus gets up, rebukes the wind and sea, saying: "hush, be still!" Those waving jackets stop immediately. Then asks a hard questions to his disciples and us all: "Why are you afraid! Do you still have no faith?"
Those playing the disciples act out the reading of the final verse, pretending to be very afraid and amazed. They say to each other: "Who is this, that even the wind and the waves obey him."
We end with a discussion about why we are still afraid and lacking in faith, and whether we can imagine stepping into Jesus-like fearlessness and authority.
Simple re-enactments make Scripture visible and more easily imaginable, helping us all see ourselves in the story.
The next study on the Gerasene demoniac in Mark 5 becomes even more interesting now that we know there's been such opposition even getting to him. In Zambia two pastors from Zimbabwe who came to help teach and minister played Jesus and the demoniac (pictured below).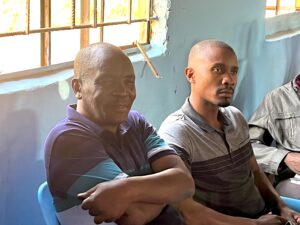 Tawanda (pictured on the right) plays Jesus, stepping off the boat onto the imaginary shore. He's even himself 32, helping us envision what Jesus might have been like. Richard (left), plays the demoniac with an unclean spirit living in the tombs, who cut himself, cried out night and day, with no one able to subdue him. He runs to Jesus from the side of the meeting place and bows down before him, reading from my Bible:
"What business do we have with each other, Jesus, Son of the Most High God? I implore you by God, do not torment me!"
I take note for the first time that a human being confessing Jesus as the Son of God is only possible by the Holy Spirit (Mt 16:17)! I invite people to consider that individuals we might consider the hardest cases can have the Spirit actively moving in their lives, revealing Jesus' identity as God to them.
I ask Richard (the demoniac) why he thinks Jesus is tormenting him. Richard answers "because he thought Jesus would treat him like all the others had, trying to bind him with shackles and chains."
"Do people outside the church sometimes have bad experiences with people who call themselves Christians, causing them to expect judgment, condemnation, and exclusion?
The people watching are nodding, making comments showing they're seeing the relevance. I read Mark 5:8 "For he had been saying to him…" and Tawanda, playing Jesus, spoke with a loud voice: "Come out of him you unclean spirit!"
I interview Tawanda about why he says this, and he says "because I can see that there is an evil spirit that is separate from this poor man, tormenting him."
I continue as the narrator, reading: "And he was asking him," and Tawanda addressed the demoniac Richard loudly:
"What is your name?"
Richard answers: "My name is Legion, for we are many."
At this point I explain how "legion" refers to a Roman military unit of 5000 or so soldiers. There was known to be a Roman garrison stationed in that region. The Roman Empire dominated over God's people Israel and the surrounding nations. This foreign, imperialist power appears to have especially oppressed this man.
Knowing that Ndola is in the heart of what's called Zambia's "Copper Belt" I ask what the name of the region's largest copper mining company?
"Bwana Mukubwa" a few people yell out.
I ask Richard to replace "Legion" with this name in response to Tawanda asking him his name again.
"My name is Bwana Mukubwa!" he yells, and the whole audience breaks out into cries of surprise and laughter.
Suddenly this Scripture seems freshly relevant, as people tell how the mines were once nationalized when Zambia became independent from Britain. But then the IMF and the World Bank pressured the government to sell the mines to private mining companies. Bwana Mukubwa is now owned by Canadian multinational First Quantum Minerals, who take most of the profits out of the country, paying local people mimimal wages.
I explained how the pig herders were likely raising pigs to feed the Roman colonizers. So Jesus' agreement to send the unclean spirits into the pigs, and their subsequent self-destruction suddenly takes on a new meaning. Jesus' exorcism frees a tormented individual from evil spirits associated with empire, and destroys those spirits together with the food supply of that empire. And Jesus elevates a marginalized individual over an economy! This is certainly good news to anyone who's been under colonial domination!
Richard (the once demonized man) then takes a seat, clothed and in his right mind. As others playing the villagers tell Jesus (Tawanda) to get out of their region, Richard asks Tawanda (Jesus) if he can go with him.
At this point as everyone is expecting Jesus to agree to let this newly-liberated person join him as a disciple, Tawanda turns to Richard and and speaks out in a loud voice.
"Go home to your people and report to them what great things the Lord has done for you, and how he had mercy on you."
At this point Richard begins to walk from one section of the gathering space to another, pretending to share the Good News, as someone reads:
"And he went away and began to proclaim in the Decapolis what great things Jesus had done for him, and everyone was amazed" (Mk 5:20).
In this way we were all able to see how Jesus' liberating action empowers the most downtrodden people to step into their highest calling as missional agents, even apostles.
That evening after this session we visit a local faith community called Step to Heaven, where we worship together, followed by a time of prayer for people to step into Jesus' healing ministry.
We witness many experience healing and deliverance, followed by a processional out into the streets of the neighborhood– of foretaste of the Kingdom of God.
We are just 4 days away from the start of our new fall series at The People's Seminary: CTMM MODULE 1. We will launch this course coinciding with CTMM in Zambia, S Africa,  Kenya, and 2 in Uganda).
Certificate in Transformational Ministry at the Margins (CTMM) This training is designed to further equip those already serving (or feeling called to pioneer work) amongst poor, under-reached, and marginalized communities.
It's not too late to register and scholarships (partial or full) are still available directly on the registration page (drop down menu when you register) 
NEW CTMM 2023 Module 1– Online (live) Certificate Program begins Sep 26
Register now: https://www.peoplesseminary.org/product-page/ctmm2022m1 
Visit our website for more information: http://www.peoplesseminary.org/
Please email " target="_blank" rel="noopener">communications@tierra-nueva.org if you need help with registration