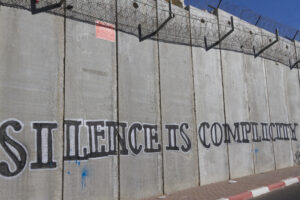 When Hamas militants massacred 1200 people inside Israel and carried 240 hostages into Gaza on October 7, they succeeded in provoking the State of Israel to unleash its wrath on Palestinians living in Gaza. The Palestinian death toll of largely civilians and children is rising daily—now nearly twelve times more than the original 1200 victims. Weapons manufacturers, the oil industry and larger economy are profiting from this war.
How might followers of Jesus challenge these injustices and offer life-giving alternatives in the face of increasing death and destruction?
The Israeli Defense Forces are responsible for the death of over 15,000 Gaza residents, 40% of whom are children— now some 160 kids a day! See Chris Hedges recent report here. In addition, Israeli bombs are destroying residences, hospitals, businesses, and the entire infrastructure, displacing hundreds of thousands of civilians, with no end in sight.
The United States is backing Israel 100%, providing billions of dollars in military assistance. President Joe Biden got Congress to approve $14 billion for weapons for Israel, and another $61 billion for Ukraine. This is enriching the American defense industry, adding to their already gluttonous profits from the war in Ukraine. The fact that American taxpayers are directly subsidizing US companies like Lockheed Martin, Northrup Grumman, Raytheon, and General Dynamics make ordinary citizens direct participants in and beneficiaries of the killing and destruction.
These companies produce implements of death, such as tanks, artillery ammunition, precision-guided munitions, small diameter bombs, ammunition, Iron Dome interceptors, Hellfire missiles, drones…
Looking at the websites of RTX, Lockheed Martin, and General Dynamics you see nice faces, official commitments to Diversity, Equity, and Inclusion and human rights. But it's all a façade as what these companies produce brings horrific suffering and death.
The death toll in Gaza is rapidly rising, provoking reactions from other militant groups in solidarity with Palestinians, causing Arab nations to rally together against Israel, increasing the likelihood of a regional war.
Isaiah's prophets foretell the coming of God himself and the Messiah, who will destroy weapons of war directly.
"And he will judge between the nations, and will render decisions for many peoples; and they will hammer their swords into plowshares and their spears into pruning hooks. Nation will not lift up sword against nation, and never again will they learn war" (Is 2:4).
"For you [God] shall break the yoke of their burden and the staff on their shoulders, the rod of their oppressor, as at the battle of Midian. For every boot of the booted warrior in the battle tumult, and cloak rolled in blood, will be for burning, fuel for the fire" (Is 9:4-5).
Isaiah continues to clarify God's movement in history, describing the one Christians and Messianic Jews identify as Jesus of Nazareth.
"For a child will be born to us, a son will be given to us; and the government will rest on his shoulders; and His name will be called Wonderful Counselor, Mighty God, Eternal Father, Prince of Peace. There will be no end to the increase of his government or of peace, on the throne of David and over his kingdom, to establish it and to uphold it with justice and righteousness from then on and forevermore" (Is 9:6-7).
When Jesus' disciples, James and John wanted to call down fire from heaven in retributive violence against Samaritans for refusing entry to Jesus and his band as they made their way towards Jerusalem, Jesus rebuked them, saying:
"You do not know of what spirit you are of" (Luke 9:54).
Of what spirit are defense industry weapons manufacturers, their politician advocates, and religious legitimators?
Many Scriptures comes to mind, such as Jesus' description of the "The thief comes only to steal and kill and destroy" (Jn 10:10).
Clearly Israel's current bombing campaign, financed by the USA, the UK and Western European governments is accomplishing killing and destruction on a massive scale, as well as the ongoing war between Russia and the Ukraine. Theft of land through illegal Jewish settlements in the West Bank and the Russian invasion of Ukraine are direct causes of these conflicts.
Jesus himself identifies Mammon as the major power active in the world that commands human allegiance over and against God.
"No one can serve two masters; for either he will hate the one and love the other, or he will be devoted to one and despise the other. You cannot serve God and Mammon" (Mt 6:24).
Jesus' words here alone state clearly to his disciples his "either-or" view towards wealth, providing Christians with a non-negotiable point of departure from the world's way of viewing war profits, which must not be justified.
The stock prices for major weapons manufacturers in the defense sector have increased significantly since Hamas' terrorist attack against Israel on October 7, and Israel's subsequent bombing campaign and invasion of Gaza, as stated by Bryan Quinn in the special report on October 26, "The business of war: How arms industry profits from violent conflicts."
"Morgan Stanley and TD Bank hope for aerospace and weapons boon after a 7% value increase from start of Israel-Hamas conflict," writes Eli Clifton in his article "'Hamas has created additional demand': Wall Street eyes big profits from war."
"As the US Government approves military aid to Israel, public monies directly enrich weapons manufacturers," Kate Aronoff writes in her October 17, 2023 New Republic article "The People Who Profit When It Rains Bombs."
"Citi analyst Jason Gursky told Barrons, "we do expect industry revenue to accelerate in 2024 and 2025 as higher spending bills passed over the past several years begin to make their way through the income statements of our coverage companies."
"Members of Congress are free to benefit from these international conflicts through stock trades or campaign contributions," writes Aronoff, who then gives disturbing details that show how people in power who stand to directly benefit financially from drawing Iran into this war are pushing for this.
When stockholders, pension plan beneficiaries and the entire US economy benefit financially from killing human beings and destroying infrastructures that sustain life, we also can be assured that we will reap what we are sowing.
Violence begets violence is visible in our current pandemic of mass shootings in the USA, arguably the fruit of our military-industrial complex, defined by Wikipedia as describing "the relationship between a country's military and the defense industry that supplies it, seen together as a vested interest which influences public policy."
Another possible "spirit" behind the desire of Jesus' disciples to destroy the Samaritans who oppose him is "murder," and "deception," visible in Jesus' prophetic critique of the religious leaders of his time.
"You are of your father the devil, and you want to do the desires of your father. He was a murderer from the beginning, and does not stand in the truth because there is no truth in him. Whenever he speaks a lie, he speaks from his own nature, for he is a liar and the father of lies" (John 8:44).
Recent allegations denied by Israel that the IDF used white phosphorous munitions in Gaza directly implicate the USA and specifically Arkansas' Pine Bluff Arsenal in killing through tortuous burning from chemicals, described here in detail, denounced by Amnesty International here.
Prophetic exposure of atrocities and cover-ups is an essential task of Jesus followers now, as well as calls for an end to the killing and destruction. Followers of Jesus should recognize that supplying weapons to kill and destroy is in alignment with the ruler of this world, whose works Jesus came to destroy.
"The Son of God appeared for this purpose, to destroy the works of the devil" (1 Jn 3:8).
Jesus disarms his disciples when they try to defend him, and warns them clearly that the way of his kingdom excludes violence:
"Put your sword back into its place; for all those who take up the sword shall perish by the sword" (Mt 26:52).
Jesus clearly states his anti-rob-kill-and-destroy agenda in John 10:10. "I came that they may have life, and have it abundantly" (John 10:10).
Jesus tells his vindictive disciples James and John and us now today: "for the Son of Man did not come to destroy men's lives, but to save them" (Lk 9:56).
May we repent of our alignment with and justification of the powers of death and even prayerfully pursue ways to protest and actively divest from systems that profit from killing and destruction. May we actively seek to re-orient ourselves afresh to the life-giving way of Jesus, visible in his teaching and witness in the Gospels. May we find ways to become peacemakers, seeking to be informed from a place of active solidarity with victims. In this way we can offer a positive witness in these dark and increasingly polarized times.