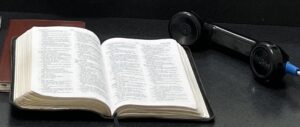 This past year I've been encountering individuals in our community who seem to have no conscious awareness of God and little to no exposure to anything Christian.

Recently I began meeting with a Mexican man in his thirties who is incarcerated in our local jail. He's the son of farmworkers who had raised him here in the Skagit Valley. His mother had come by Tierra Nueva right before our Sunday worship one night, asking me if I could visit him. I have been meeting one-to-one through the jail attorney visitor booths for the past six weeks. Glass separates us and we talk through black phones.

On my first visit I asked him how he's doing, and he tells me some of the details of his charges, and that he is looking at 200-220 months in prison.

"I'm fine with admitting to three of my charges, which I definitely am guilty of," he said, shaking his head remorsefully. "But I'm not guilty of the worst charge which carries most of that time. But the only witness they have that I did it is a cop—but it wasn't me!" he said.

He tells me that his public defender is refusing to go to trial to defend him from the charge he says is false. She wants him to accept a plea agreement. I encourage him to hang in there, insisting on his innocence and to pray and see what happens. He then shifts the conversation, telling me:.

"My mom apologized the other day for never taking me to church. And when I left home and hit the streets at age 13, there were never any more opportunities. I don't know anything about God, about prayer– nothing," he said.

"Do you believe there's a God?" I ask him.

"No, I guess I don't," he responded.

"Do you ever feel yourself being nudged or guided away from situations of danger or trouble?" I ask. "Like there's maybe someone on your side making you aware of other options so you can escape a bad situation?" I ask, looking for some evidence of spiritual awareness.

"No, I've never felt anything like that," he says.

"Do you ever notice the presence of anything dark or destructive, like a negative power that's invisible but predatory?" I continue.

"No, I haven't noticed," he said. "But my homies tell me they notice demons and shit, and get creeped out and afraid sometimes," he continued. "But not me."

"Do you feel a need for God?" I ask.

"No, not really," he said matter-of-factly– suddenly looking a little self-conscious, like he's giving wrong answers, and that he should know that he needs God.

"What is prayer?" he asks, surprising me with his sincere interest. "I'm telling you I know nothing," he humbly confessed.

"Prayer is just talking to God, telling him what's on your heart" I say. "But it's also God communicating with us, so it's a two-way conversation, with God is usually speaking first—though we often don't notice," I add. "And you can do it with your eyes open."

"Oh, that's good," he says, looking relieved.

"Yeah, you can even do it without talking, silently in your head," I add.

"Seriously? He asks.

"Yeah, you can think what you're trying to tell God," I say, "and God hears. You can pray anywhere, anytime: in your pod, in the courtroom, in your cell, in the shower, in the rec, now. No one has to know that you're praying. It can be your own secret communication."

"Wow, really?" he said. "That sounds f…ing cool," he said.

"It can feel kind of weird," I acknowledge. "After all, God is invisible. He came into the world in his son Jesus, but Jesus is invisible too," I add, feeling myself somewhat self-conscious that this was all sounding crazy.

"But it's because the authorities executed Jesus. The Bible teaches that he then resurrected from the dead, and his followers saw him. But then he left and went to be with his Father in heaven. So praying is communicating with an invisible God, whether it's the Father, Jesus, or the Holy Spirit."

He sat there through the plexiglass divider taking all this in, looking like he fully agreed with me that prayer is weird.

"But you say you don't need God," I say. "Right?"

"Yeah, I don't see why I need him," he said honestly, looking at me like he wondered if I thought he was crazy or a lost cause.

"Well, you did mention that your public defender wasn't wanting to take your case to trial, but wants you to accept a plea for something you're not guilty of, right?" I summarize.

"Yeah, that's right," he said.

"Do you feel like you need help from someone more powerful than your public defender, if that person were available?" I ask.

"Yeah, for sure! I do need someone more powerful than her," he readily acknowledged.

"Well, God is described in the Bible as hearing the cries of the oppressed, including prisoners. When his people were slaves in Egypt he intervened to liberate them. God kept helping them since then, whenever they messed up—which was often. Then he even came directly into the world to save us through Jesus. And in Jesus' first public message he came to set prisoners free.' If God and Jesus truly were and still are like this, would you say you could use their help?" I ask him.

"If God and Jesus are like that, I definitely need them," he acknowledged. "But I still don't think I believe in God," he added.

"Would you want to believe in God if God were like that?" I ask.

"Yeah, for sure," he said. "I would."

"Okay, cool. So you could try speaking to God—in other words praying. Even if you're not sure God exists, you could just decide to trust, even if you're just pretending or hoping he's real. You could try faith out. Like you'd test-drive a car or something. You could just tell God you want to believe in him, that you need his help. You could ask him to show you if he's real and to save you from this false charge," I suggest.

"Can I really?" he asked.

"Yes, you could even do it right now if you want, I say. "But I don't want you to feel any pressure from me," I say.

"No, I don't feel any pressure at all," he said.

"I think I want to try. But what do I say?" he asks.

I go over a simple sample prayer and he listens hard. He tells me he wants to try talking to God. I ask him if he wants me to pray, and he can repeat the prayer, or if he wants to try it out on his own. 

"I think I'll just try it out," he says nervously.

He then sat there silently for a while, looking increasingly strained.

"I don't know what's wrong. I'm completely pitting out. I can't say anything," he said, frustratedly.

"If you'd like I can pray for you, that God would free you to be able to try praying," I suggest.

He tells me he wants me to pray. I pray for him and then he's able to formulate a prayer. He prays something like this.

"Jesus, if you're real, please give me a sign, even the littlest sign. I need your help, and I want to believe."

I suggest he ask Jesus to help him with his legal situation, and he adds in a request for help.

I've continued to visit this man every week or two and he's progressing in his faith journey. Yesterday I asked if he's been praying since we last met. He told me he found himself spontaneously saying:

"Hey bro, I really need your help," just after the sheriff had told him he had a no-contact order with his girlfriend that he didn't know about, who he was regularly talking with by phone.  

"It felt too weird to call him God or Jesus. Do you think that's okay to call him "bro"?" he asked.

I told him I'm sure Jesus would be honored that he called him bro. He accepted this with a warm smile.