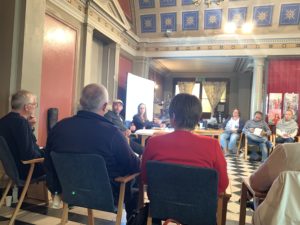 For our entire adult lives Gracie and I have ministered in settings where our race and nationality have identified us with power, privilege and oppression. These past years since Trump has been president have been especially difficult for Americans ministering across lines of difference.
We just returned from having offered our Certificate in Transformational Ministry at the Margins in Stockholm. There we engaged with many Swedish ministry workers working with refugees, and we had course participants from Pakistan, Iran, Eritrea. As we prepare to minister to Syrians in Lebanon, we reflect on Jesus' encounter with the Samaritan woman in John 4. Following is an excerpt from my book Guerrilla Gospel: Reading the Bible for Liberation in the Power of the Spirit.
Jesus embodies God's mission to save Israel and the whole world. The Gospels tell us how Jesus goes behind enemy lines, right into Roman-occupied Israel and into hostile communities and subcul­tures. There he preaches, teaches, heals, casts out demons, and recruits disciples. Jesus never leads an actual Bible study, but in this chapter we'll look at how he engages the Samaritan woman at the well person­ally through Scripture, her tradition, her community, and her own story, empowering her and calling her to new life (Jn 4:7–45). This contextually sensitive, transformational encounter is one example of what I'm calling a guerrilla gospel encounter or guerrilla Bible study.
John's detailed account of this empowering interaction provides a template for revolutionary encounters with God's Word on the margins, which we can apply to similar contexts today. Jesus' racial, ethnic, and gender profile establish him as a representative of the oppressive Jewish status-quo, which would traditionally exclude the Samaritan woman. Yet Jesus finesses this unequal relationship to bring good news to this excluded people.…
Subversive Vulnerability
As an itinerant missionary, Jesus comes in vulnerability and need, embodying his instructions to his twelve disciples in Luke 9: "Take nothing for your journey, neither a staff, nor a bag, nor bread, nor money; and do not even have two tunics apiece. Whatever house you enter, stay there until you leave that city" (vv. 3–4). Though Jesus enters the mission field of Samaria without food or water, he's in hostile territory, and so he keeps a respectful distance rather than approaching the Samaritans' homes and saying, "peace be to this house," as he instructs the seventy in Luke 10 (quoted above). Jesus seems to recognize the woman as a func­tional doorkeeper to her community, and so he engages with her from a position of functional inferiority.
As a representative oppressor to the Samaritans, Jesus models how we might prompt people's hospitality in hostile situations. He asserts his vulnerability when he commands the woman to give him a handout— a posture that reflects guerrilla combatants. Counter-insurgency manuals used in Central America during the 1980s describe guerrilla combatants as "fish" and those who host them as the "sea." Oppressive governments often tried to eradicate the guerrilla movement by draining the "sea" through the destruction or relocation of villages. Jesus is proactive, even aggressive in his dependence upon local hospitality. Confident that the Kingdom of God is better than anything this Samaritan woman and her community have ever known, Jesus risks his dignity to bring peace into a story of entrenched division.
At first glance, Jesus' command seems rude—unlike the angel of the Lord, who calls Hagar by her name and asks her about her life. In expressing his need for water, Jesus is not polite, nor does he empha­size his own agency, as Abraham's servant does with Rebecca when he says: "Please let me drink a little water from your jar" (Gn 24:17 emphasis added). It may be that Jesus is deliberately provoking offense to expose the prejudice and underlying hostility in his potential hostess.
Jesus invites the Samaritan woman to show hospitality to an unwel­come stranger or enemy by serving him a drink, a scene that evokes his parable about God's judgment of all the Gentiles (ethne) in Matthew 25 (v. 32). In Jesus' parable, those who give a drink to the thirsty are blessed by his Father and inherit the kingdom (Mt 25:34-35). In the story of Abraham's servant's search for a bride for Isaac, the servant's proposed and realized sign that he'd found the right virgin was the maiden's offer: 'Drink, and I will water your camels also' (Gn 24:14). The Samaritan woman falls short in both cases.
Jesus comes to Sychar as Abraham and Jacob's descendant to bless the city whose inhabitants Jacob's sons once massacred and to fulfill God's original charge that Jacob would be a blessing to all the families of the earth: "Your descendants will also be like the dust of the earth, and you will spread out to the west and to the east and to the north and to the south; and in you and in your descendants shall all the families of the earth be blessed" (Gn 28:14, emphasis added). Jesus seeks to break down the barriers of separation between himself and the Samaritan woman, who is the potential person of peace, thereby opening the way for the city of Sychar to receive him so that he might heal the historic division between Jews and Samaritans. In this way, he further embodies his instructions to his followers in Luke 10:
"Whatever city you enter and they receive you, eat what is set before you; and heal those in it who are sick, and say to them, 'The kingdom of God has come near to you'" (vv. 8–9).
However, the Samaritan woman does not give him a drink of water. She doesn't provide the needed hospitality. She's wary of Jesus and keeps him at a distance, revealing that she's street-wise in dealing with outsiders, especially men. Maybe she's interpreting his forwardness as presumptuous, a sign that he's looking for other favors or wants to dominate her. Maybe she's cautious about serving a needy man, which could lead to a co-dependent relationship she's deliberately avoiding,
Subversive Peacemaking
Instead of giving Jesus a drink, the woman questions him directly about the racial and gender barriers that separate them: "How is it that you, being a Jew, ask me for a drink since I am a Samaritan woman?" She calls Jesus on his illegal behavior concerning both Jewish-Samaritan and male-female communication, "for Jews have no dealings with Samari­tans" (Jn 4:9)….
Jesus does not respond directly to the woman's hostile question. He remains silent about the racial, ethnic, religious, and gender barriers between them. Though he does not deny that he's a Jewish man breaking the rules, he doesn't apologize. Nor does Jesus defend his Jewish heri­tage, drawing from Scriptures showing Jewish gender or cross-cultural sensitivity,60 offering Israel's best face as an apologist for God's chosen people—which are also his people. While Jesus doesn't present himself as a sensitive man whom she should trust, he also doesn't shake the dust off his feet and give up on the woman or her community.
Instead, he practices a kind of enemy love in response to the Samar­itan woman's refusal to give him (her enemy) a drink by offering her an opportunity to receive a gift from God. But she must ask for it. Jesus describes this gift in a way that makes it seem distant as well as irresist­ible. With total confidence in God's gift, his own identity, and his capacity to offer the woman new life, he says: "If you knew the gift of God, and who it is who says to you, 'Give me a drink,' you would have asked him, and he would have given you living water" (Jn 4:10).
To continue reading, you can purchase Guerrilla Gospel: Reading the Bible for Liberation in the Power of the Spirit here
Now Available: Check out The People's Seminary's Online version of the Certificate in Transformational Ministry at the Margins.