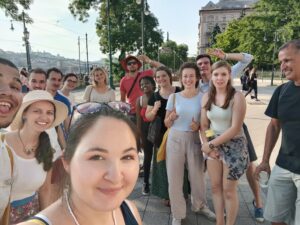 Last week my daughter Anna and I were in Budapest, Hungary, where we participated in the Changemaker festival, organized by the France-based Catholic-ecumenical order Chemin Neuf.
About 125 young people ages 18-34 gathered from across Europe for five days of worship, Biblical reflection, prayer and seminars on justice issues like migration, racial reconciliation, climate change and European unity. In the afternoons people broke into project groups. Fourteen people joined my project "Word, Spirit and Justice on the Streets."
We began each of our three-hour afternoon sessions looking at a Gospel text showing Jesus in action– tenderly encountering the people of his day. We explored together in detail how Jesus approached people– calling them to join him, healing them of their pains and diseases, defending them from accusers, casting out spirits that oppressed them.
After each daily hour of reflection we broke into four groups, which always included one of our Hungarian-speaking participants. We then went out on the streets for an hour and a half to walk, pray, and pay attention, deliberating seeking to attend to what we were noticing, informed by the Gospel account we'd examined. We sought to make ourselves available to the Holy Spirit to respond to people we encountered on the streets, or to initiate encounters.
The neighborhood where the conference took place was in the notorious 8th District, an impoverished area where many Roma people, gypsies and newly arriving immigrants from Eastern Europe live. Drug dealing, homelessness, and prostitution were often visible on the streets.
Participants in my group came from France, Poland, Hungary, Germany and Indonesia. Only one had ever prayed for healing and no one had engaged in street chaplaincy. When we re-grouped to debrief after our first outreach there was both visible relief and excitement. Going out was easier and more fulfilling than people had imagined.
Everyone shared stories of surprising encounters with people on the streets. Each group engaged in respectful listening, and prayers of blessing for people. Some people even prayed for healing.
As we were talking with and praying for a man in a wheel chair who'd lost both his legs we noticed a woman soliciting customers on the side of the road. Our Hungarian group member asked the woman whether she knew God. She answered: "I used to, but not anymore, since I took a bad path."
We told her that nothing can separate us from God's love, and how Jesus never gives up on us, showing himself to be a friend and defender of sinners and the excluded. She gladly received prayer, lifting her hands up slightly as we blessed her, tears falling.
In downtown Budapest on the third day my group gathered to ask the Holy Spirit for revelation about what to look for. People received "youth," a picture of someone with a black shirt with "stop" written on, a black shirt with an orange triangle, among other things.
We turned a corner into a park full of young people. Skateboarders were everywhere. As we were leaving the park I noticed a teenager approaching wearing an interesting t-shirt– thinking to myself how much my friend Jason would love that shirt.
I stopped the youth and asked him where he got the cool shirt. He didn't want to be bothered but then took my interest as a compliment, telling me where I could find one. I asked if I could take his picture. Just after we parted someone noticed that hidden in the middle of the graphics of his shirt were the words "Stop." We had stopped, but we had missed this clue that the Spirit had given us in response to our request at the opportune moment! A few of us took off in search of the guy, but couldn't find him. This experience excited us all, a confirmation that we were hearing from God.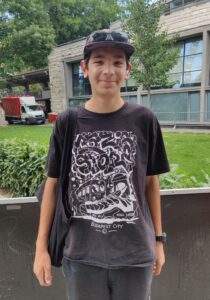 Later that afternoon a woman in our group saw a prostitute on the street with a black shirt with an orange triangle. She approached her to offer prayer, and was well received. This amazed her and delighted people, who were not used to the Spirit providing such intelligence.
On the final day, after our group presented our project to all the festival participants there in a public park in the heart of the 8th District, we extended an invitation for anyone to join us on a final hour of street chaplaincy.
Twenty new people joined our group, and we sent out eleven groups of three, each heading out in a different direction. We planned to meet back to debrief an hour later. Seven new Hungarians joined us to help translate, and each group was led by one or two people from our project, who four days prior had no experience of this kind of ministry!
Participants came back excited, reporting moving encounters with people on the streets that included listening to their stories and praying for their healing. I'm sure that my "Word, Spirit and Justice on the Streets" participants are now less intimidated to engage in street chaplaincy back in their home countries. Anna and I return ready to engage afresh with our Tierra Nueva faith community in prayer walks through our streets here in the Skagit Valley.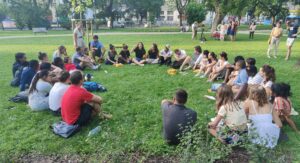 Consider joining us for a new cohort of our Certificate in Transformational Ministry at the Margins, which is designed for those already serving (or feeling called to pioneer work) amongst poor and marginalized communities. This 12-week CTMM 2021 Module 1 training begins Sept 28, Tuesdays 12:00-1:30pm (PDT).
https://www.peoplesseminary.org/product-page/newctmm2021
Visit our website for more information: http://www.peoplesseminary.org