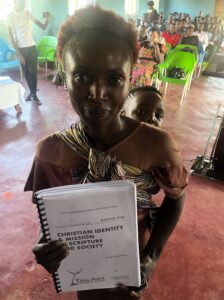 I'm amazed as I think back to Gracie and my original call while living in Honduras to offer training to illiterate and semi-literate people through what we then called the Universidad del Campo (the University of the Countyside). From 1982-1988 we hosted many courses under the shade of big mango trees on the edge of our demonstration farm.
Subsistence farmers came on foot or horseback from the surrounding villages, sleeping on straw mats to attend courses on organic-intensive hillside agriculture, nutrition, literacy, and human rights advocacy. In our last years and ever since we've focused more on teaching people how to read the Bible for good news, leading participatory Bible studies, praying for healing and spiritual freedom.
When we moved to France for formal studies in theology in 1988 we thought to bring "the best to the least." Not that we believed Western theological education was the "best," or that the people we served were in any way lesser. Rather, we were moved by the witness of many educated Catholic priests and protestant pastors and missionaries who had left pastorates in cathedrals and professorships in prestigious universities to serve the poorest of the poor.
Theologians like Gustavo Gutierrez and priests like Rutilio Grande and Archbishop Oscar Romero inspired us to serve people as humble learners while also translating valuable insights from the disciplines of Biblical studies and theology into the language and contexts of poor communities.
When we moved to the Skagit Valley after completing our studies and began ministering in the local jail and amongst the Mexican farmworker community, we could have never imagined that this would be the training ground for developing certificates we'd later offer to communities around the world.
On March 7th I boarded a flight from Seattle to Istanbul, landing in Ndola, Zambia via Nairobi to begin our four-day course after nearly 28 hours of travel. There I joined a team of four others who'd graduated from our Certificate in Transformational Ministry at the Margins (CTMM) in Stockholm, Zimbabwe, and an online Zoom training to begin our 24th CTMM course, this time to 196 Zambian pastors and ministry workers.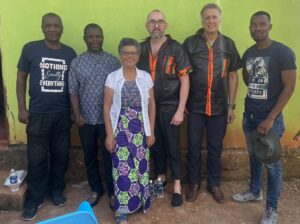 Those attending our courses came from poor communities where they haven't had the opportunity to study. People were eager to learn, and resonated especially with Bible studies that we acted out in bibliodramas. Our teachers included Zimbabwean pastors Richard and Tawanda, South African grass-roots educator Colleen, myself, and Swedish musician and pastor Andreaz (photo below).
Our host community organized a daily lunch on each of the four days (photo below). We were able to cover the thirteen sessions of Module One, "Christian Identity and Mission in Scripture and Society." On the final day of the CTMM training we presented participants with a training manual. We will return to offer modules 2 and 3 in the next six to ten months, offering a certificate from The People's Seminary to those who complete all the modules.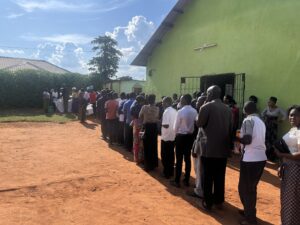 We left Zambia last week, inspired by the humility of the people who attended our training. This was visible in the many young people and even children who came to us asking for prayer for their studies, and people's honoring of one another and us. They even measured us, bringing us hand-made shirts and a dress for Colleen.
I was deeply touched by people's simple faith and openness to receiving form God and us, visible in many healings that took place over the week, and people's questions and engagement with the course content. People prayed and prophesied over us with great accuracy and a humble confidence that shows they are adept at trusting God for provision, health, nearly everything.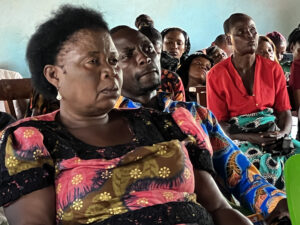 Worship happened before and after every session, with a team of young people leading from the front. We left Zambia feeling that we'd received more than we'd given. We just finished the same training in Mannenberg, an impoverished township of Capetown, South Africa, which we finished on Friday and will tell you about in a separate update. I'm now on a flight to Mauritius to offer Module 3 to a group of French-speaking Presbyterians who we've been training online. I'm excited to work through final module in person, "Word on the street: transformational Bible study, social justice & peacemaking," this week. Take a look at our self-paced online Certificate in Transformational Ministry at the Margins here.