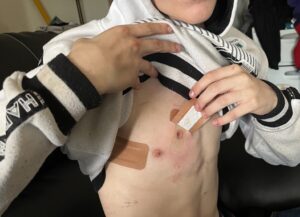 These past weeks have been marked by horrific gun violence, with mass shootings in a supermarket in Buffalo, New York and Robb Elementary School in Uvalde, Texas. These surprise attacks have provoked insecurity, fear and outrage– leading to urgent cries for gun control by some. Many others have rushed to buy a gun to protect themselves.
What doesn't make the news are stories of shootings abandoned, prevented, or survived due to the prayers and interventions of believers.
Early this Saturday morning a woman from Tierra Nueva's faith community instant-messaged us with an urgent prayer appeal and photo. The 16-year-old step son of one of our community members had been shot in the chest during a drive-by at 2:30am in our town. He'd been taken by helicopter from the local ER to a trauma center in Seattle and was in critical condition on a respirator. With a collapsed right lung and having lost over 800 ccs of blood his life was hanging in the balance. His step-mom was there by his side praying, while the rest of us prayed from a distance.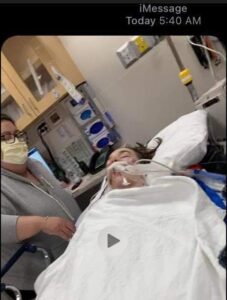 In a remarkable turn of events, the boy's bleeding stopped that morning and he began to recover. Within two days he was up walking around. Thursday, five days after the shooting, I visited him at his home and heard about his experience. He showed me his bullet holes, and how the bullet barely missed his heart. He showed me where it came out his back.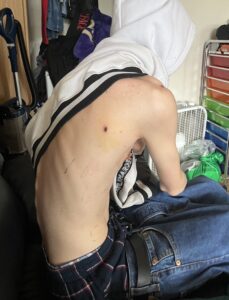 He told me the details of how the drive-by happened. He and his "brothers" were drinking and walking late at night where he said "they shouldn't have been," when a car from a rival gang drove by.
"I didn't hear the shot but just felt something like a bee sting," he said. "But then I noticed all my attention was on my chest, and saw blood flowing onto my shirt."
He told how he ran for three blocks and hid under a car, before he was taken to the ER and then eventually lost consciousness. He has no memory of the helicopter ride or entry into the Seattle trauma hospital. He's amazed and grateful to be alive. He tells me he believes a Higher Power protected him, and feels like his life is beginning again.
This young man's story reminds me of the story of the boy on the brink of death, whose father, an official from Capernaum, journeys to the mountain town of Cana, hoping to bring Jesus down with him to heal his son (John 4:36-44). But Jesus tells him:
"Unless you people see signs and wonders, you simply will not believe."
Jesus seems to want people to believe without his physical presence, without seeing. Like when he tells doubting Thomas after he finally sees and believes.
"Because you have seen me, have you believed? Blessed are they who did not see, and yet believed" (Jn 20:29).
The official doesn't stop 'praying' (understood as telling Jesus he needs his help now). "Sir, come down before my child dies!"
Jesus tells him: "Go; your son lives." The man believes the word that Jesus speaks to him and starts off. He's no longer 'praying' but heading home in peace. On his way down, his servants meet him and tell him his son is living! He asks them when his son recovered, and learns its right when Jesus spoke the day before: "Your son lives."
Jesus speaks a word of healing from a distance, and the boy is restored without him being physically present. The result is that the man and his entire household believe.
The young man who had been shot had his step-mother at his side praying, whilst others prayed and spoke words of life and restoration from a distance. Her step-son now recovering, this step-mom's faith is now activated and her household is in the process of coming to believe in Jesus. She's now attending Tierra Nueva's Sunday worship and Wednesday Bible study.
This doesn't mean that prayer will stop all mass shootings and keep all shooting victims from dying. It is hard to understand why God doesn't intervene more directly and consistently in response to our prayers, to rescue innocent victims and stop perpetrators. This can cause us to abandon hope and lose faith. We can then miss out on noticing the many interventions that happen when we're working, watching and waiting for miracles in the trenches.
It's important to remember that the tragic death toll rises as a direct consequence of a myriad of human factors that we can address: growing alienation in our society, the glorification of violence, unrestricted access to firearms, the disintegration of families and community, oft-inadequate and ineffective mental health counseling…
We need a movement of deputized, praying and attentive Jesus-followers in touch with vulnerable families and individuals is needed to address the roots of the gun-violence pandemic. Fear-breeding isolation must be confronted by persistent efforts to reach out to the lonely and the desperate, the mentally-ill and the addicted, welcoming them into non-judging, love-infused community where an alternate vision of reality can be learned about and experienced.
The Kingdom of God must advance as the only real response–not a surveillance State–though sensitive, respectful and effective law enforcement is also surely needed. There are many agents of Jesus' love and justice at large, already preventing and responding to myriads of acts of violence and near-deaths. This "good news" goes unreported by media in favor of that which alarms and outrages.
This will only change as we become regular witnesses of Jesus' miraculous interventions, borne out of persevering intercession and love-your-neighbor precision actions. In this way once vulnerable, violence-breeding households will become believing safe houses for the Jesus movement.
Consider enrolling in our Disciple! Diploma in Integrated Spiritual Accompaniment for the Jesus Movement